Archery Tag Ireland- Archery Tag in Limerick and Clare
The newest phenomenon in friendly combat sports
Archery Tag is very like paintball with out the mess and using foam tipped arrows, you are in competition whilst ducking and hiding, not only to keep from getting tagged by an arrow but to hit your opponents

Archery tag is a high energy and fast paced fun event and great for stags, hens, birthday parties sports teams, sports and socials and corporate team building events.
Archery Tag games can be played almost anywhere - indoor or outdoor
Nevsail Watersports Best Prices Guaranteed:
At Nevsail, we can guarantee you the best prices available and we will MATCH or even BEAT any genuine competitor's price, so drop us a line and enjoy a safe, fun filled and friendly adventure experience at Nevsail Watersports Adventure Centre.
Give us a call and we will answer all you questions 0863308236
Want to know how this Archery Game is played?
Take a look at the rules of the game to give you an idea of how much fun it is to play
Archery Tag Rules and Regulations - Your Objective:
The objective of Archery tag is to obtain points by shooting your arrows across the field at your opponents. The team with the most hits wins.
Preparation for each player:
Each player should have Personal Protection Items (gloves, pads, and mask) on at all times. Each team consists of 3-6 players. All players start with two arrows. After that, it is up to you to retrieve more.
How to Play this Archery Games:
Teams will start at opposite ends of the field. You may go anywhere on your side of the safe zone. Your goal is to successfully shoot and hit members of the opposing team.
How you get Points:
Points are awarded for each hit or tag of an opposing team member. During regulation play, all players remain on the field even if they are tagged. If you are able to catch a flying arrow, without it touching your body, you will have two (2) points added to your team score. Team with most points wins.

Example:
Team A tagged Team B 30 times & caught two arrows (34 points)
Team B tagged Team A 20 times and caught no arrows (20 points)
Team A is declared the WINNERS
Regulation Play: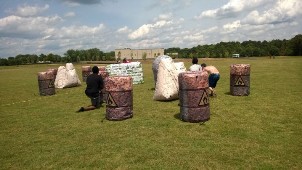 This Archery game has a 10 minute regulation round. You may play as many tag rounds as you wish. The Referee will Start/ Stop play by blowing a horn or whistle.
How to Referee the game:
During Archery Tag Game events, two or more referees will be watching the tag game from each side. They will count the tags on their side and reveal the winning team. They will Start/ Stop each game with a horn or whistle. At all times during regulation play, the referees will be watching for these violations: 1.Crossing the Safe Zone (1 tag against violator's team) 2.Head Shots (2 tags against violator's team)
Be the Tag Master:
The player who remains untagged for the most cumulative rounds will be considered the "Tag Master". Who be the "Tag Master" in your area?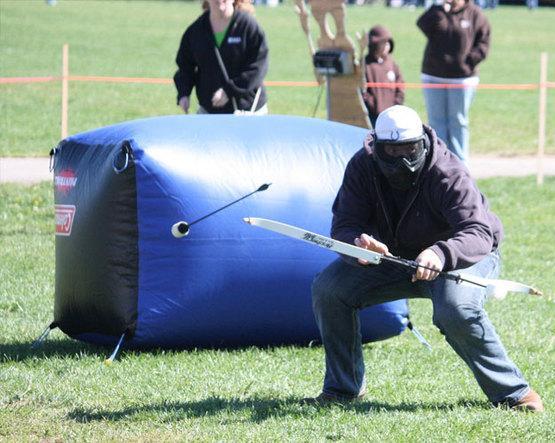 Additional Games and Versions of Archery Game:
Optional additional Rules and Safety Precautions:
Each player will be awarded points for each game. Points vary for different games. There are no safe zones in the following versions of Archery Tag, so you are allowed to move anywhere on the field. If you are within 10 feet of an opponent, you must call out for them to "surrender".
Play Capture the Flag:
Wooded areas are preferred for this type of Archery. Before the game begins, each team will hide a flag on their side of the woods. During play, each team attempts to find and grab the opposing team's flag. Once you are hit, you must leave the game. Be careful that you are not hit while capturing the flag. If the player grabbing the flag is tagged while removing it from its hiding spot, that player is out and the flag must be hidden again. Play continues until one team's flag has been captured.
(Points: Winning Team= 10 points per player, player who captured flag= 15 additional points)
Be the Last One Standing:
This variation of Archery involves every man for himself. The same field parameters and bunkers are in place for this game as in Archery; however, there are no teams and no safe zone. Each player is competing to tag everyone else on the field. Once you are tagged, you must leave the field. The last one remaining (not tagged) will be declared the winner.
(Points: Winning player= 15 points)
Be the Traitor:
Archery Traitor cards are needed for this type of game. This variation of Archery involves both a team and individual type of combat. Before the game, each player will pick a traitor card. It will say "Traitor" or "Non-traitor". Only one player per round will be chosen to be the "traitor". When you are tagged, you must leave the field. Within 3 minutes of regulation play, the "traitor" MUST reveal himself by tagging his own team members. If the traitor is successful at attacking his team, he will be considered the winner. If he is tagged, the game is over.
(Points: Successful Traitor= 20 points, Person Tagging Traitor= 15 points)
Do you like Golf? Play Archery Golf:
This variation of Archery does not involve tagging other people. A designated target is chosen and each player must hit the target or hole with as few shots as possible. The player with the fewest points is the winner.
(Points: Each shot = 1 point)
CONTACT DETAILS:
For more info or inquiries please click here and we will get back to you.
E-mail: info@nevsailwatersports.com or Phone: 086 3308236 and we will organize the perfect day out for you